Route planning advice
How far to go each day:
You should aim not to drive more than 50-80 miles each day and you may wish to have a rest day in the middle of your holiday.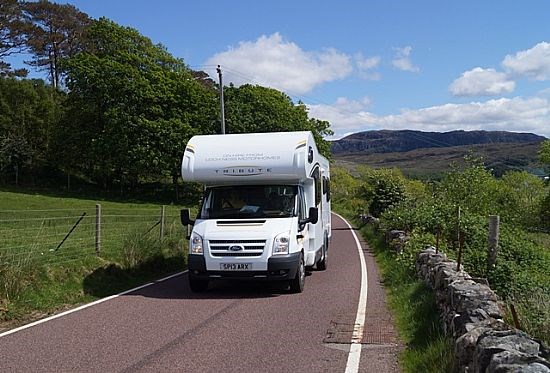 Single track roads:
When traveling in the Scottish Highlands you will encounter many single track roads. There are very few of these roads that can't be driven with our motorhomes; however it may be difficult to drive much more than 30mph and you need to allow extra time for this. You should not drive on any roads which are sign posted as "not suitable for caravans"
If you meet oncoming traffic when driving on single track roads then simply pull in to one of the passing places on the left. NEVER pull in to a passing place on the right! If the passing place is on your right, then it is best to simply stop on the road and allow the oncoming car to drive around you.
If you are holding up traffic behind you then you should indicate and pull in to a passing place on your left and allow them pass.
Maneuvering:
Even if you are used to driving larger vehicles, you should always get a passenger to assist you when you are maneuvering or reversing at all times.
Typically, on the rare occasions when customers do cause damage, it is always at the end of the trip when they "have got the hang of it".
Ferries:
Many of our customers use the ferry network to visit the islands. This is standard practice and our motorhomes will fit on all the ferries in the Highlands.
However, please remember that ferry services can be weather dependant and may be cancelled without notice so it is best to allow plenty of extra time to for this.
i.e. don't book a ferry for the morning that you are due to return the motorhome.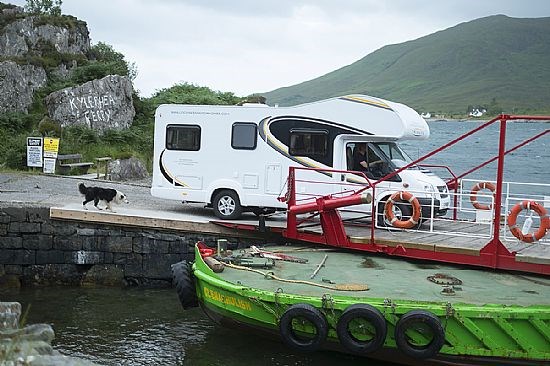 Where to stay overnight:
Whilst wild camping is common practice in the Scottish Highlands, the associated facilities that can be found on campsites, such as showers, water filling, and waste emptying, etc will make your holiday more comfortable. At peak season we recomend booking campsites in advance.
Here is a link for campsites: Click here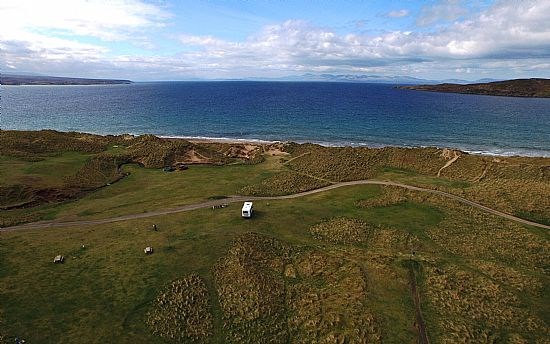 If you do choose to spend some time wild camping, you should adhere to the countryside code. Consider others when you are parking, dont park in front of somebodies house, or in front a farm access. If there are several other motorhomes wild camping in the same place then it is best to find somewhere else as it will look like an unofficial campsite. Due to the irrisponsible actions of a minority of wildcampers during the already hightened tensions of the COVID pandemic, some of the locals are uneasy with wildcampers. If wildcamping follow these 3 simple clean camping principles:
Take nothing but pictures.
Leave nothing but footprints.
KIll nothing but time.
Your last evening:
It is best to stay in a campsite on your last evening as the motorhome needs to be returned with a full water tank and an empty toilet tank. If you wish to stay at Beauly Holiday Park on your last evening then we offer a discounted pitch fee.
We strongly advise to stay no more than 30 miles from Beauly on your last evening, as we have had incidents in the past such as traffic delays etc which have made customers return late.
Here are some links to a few of the local campsites: